Community members react to the news of the death of Jarrett A. Hughes, who was shot and killed with a fatal gunshot wound to his back at 937 Dale Street in Kingsport on Wednesday, Aug. 3, 2011.
After a two-year investigation, Kingsport Police Department Sgt. Frank Light assisted by Detective Randy Murray arrested two Johnson City men, Dominique Lashon Morrison, a.k.a. "Domo," and Jarrod Logan Anderson, a.k.a. "Hoodie," for the killing of Hughes. They arrived at Hughes' resident armed with a handgun with the intention of robbing him.
Anderson and Morrison are currently jailed on $500,000 bond each. Their court dates have yet to be set.

They are each charged with first-degree felony murder, attempted especially aggravated robbery and aggravated assault.
 
Kingsport Firefighters and EMS help bring a woman to shore after she was stranded out in the Holston River. Witnesses on scene said they saw her vehicle exit Netherland Inn Road, drove onto the boat ramp without stopping and into the river. The vehicle became submerged and she escaped through her windows. When rescue brought her to shore, she was conscious and talking.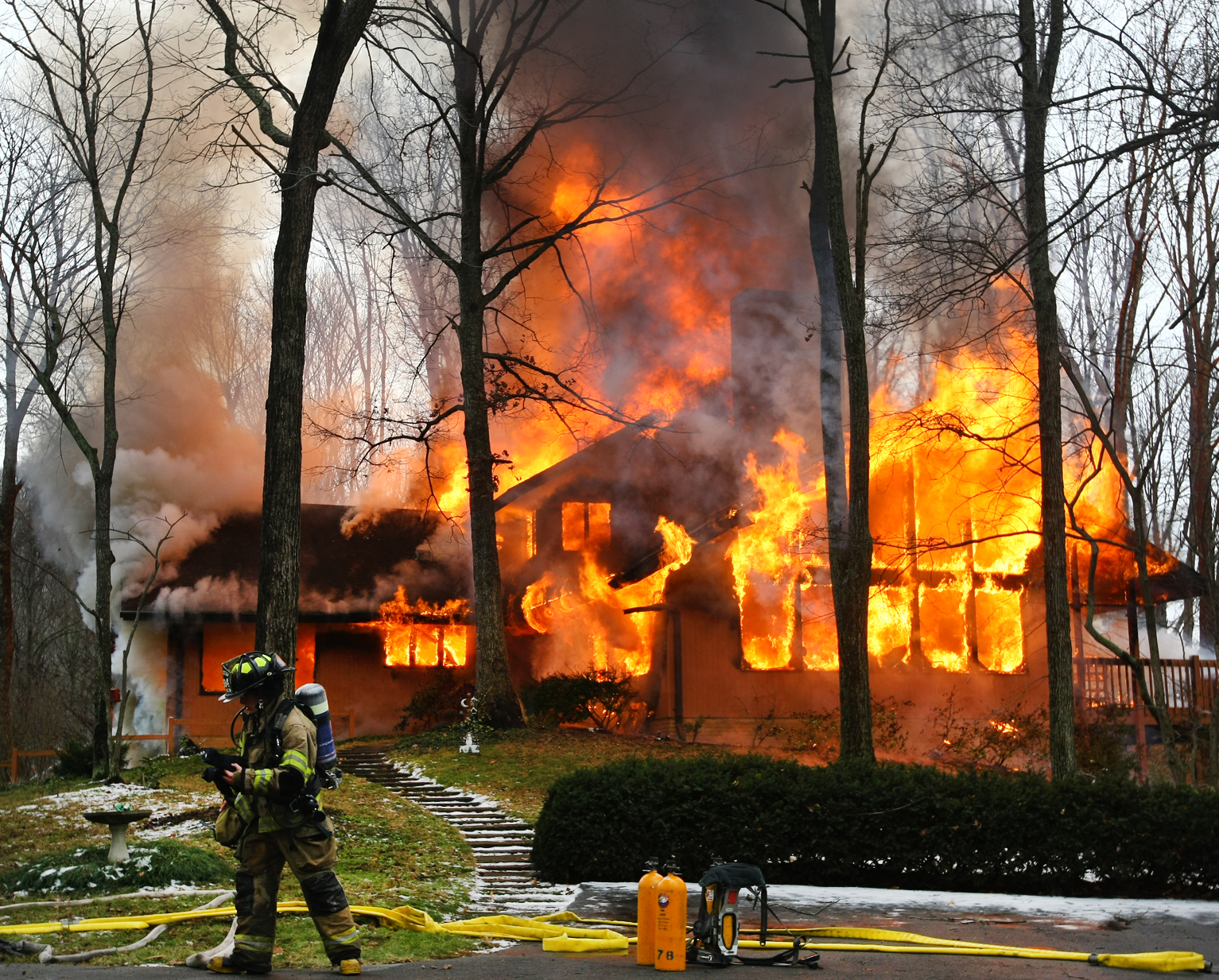 A firefighter walks away from the structure after it became too hot and dangerous to attack. At that point they took a defense stance to the fire. The home at 661 Rock Springs Road was a total loss. Fire broke out at approximately 2:50p.m.
A firefighter escorts a woman who was inside of the Miller Village Apartments in Kingsport who had to be decontaminated on scene after a meth lab explosion. One other resident was taken to the hospital for burns.
A spokesperson for the Kingsport Police Department said the original call to an emergency operator just after 6 p.m. was for a grease fire inside Apt. 36 at the complex located at 3812 East Line Drive.

 
Lab Technicians disassemble components of a Meth lab found in lot #27 at 417 Barnett Drive Tuesday afternoon. According to Detective Ferguson with the Kingsport PD Vice Squad, six people were taken into custody after vice units entered trailer #21 and #27 for a search warrant earlier in the day.
Bristol TN City Police, investigators and the U.S. Marshal Service secure the scene of a shooting at Edgemont Towers early Wednesday afternoon.
Rusty L. Rumley of Watauga, Tenn., ran from the scene after shooting four victims early Wednesday. Three of those victims were confirmed deceased.
A Kingsport City Firefighter pulls a cat out from a house fire on 152 Woodmont Avenue. Nobody was home at the residence when a fire broke out from the rear of the home. Two dogs and a cat were saved.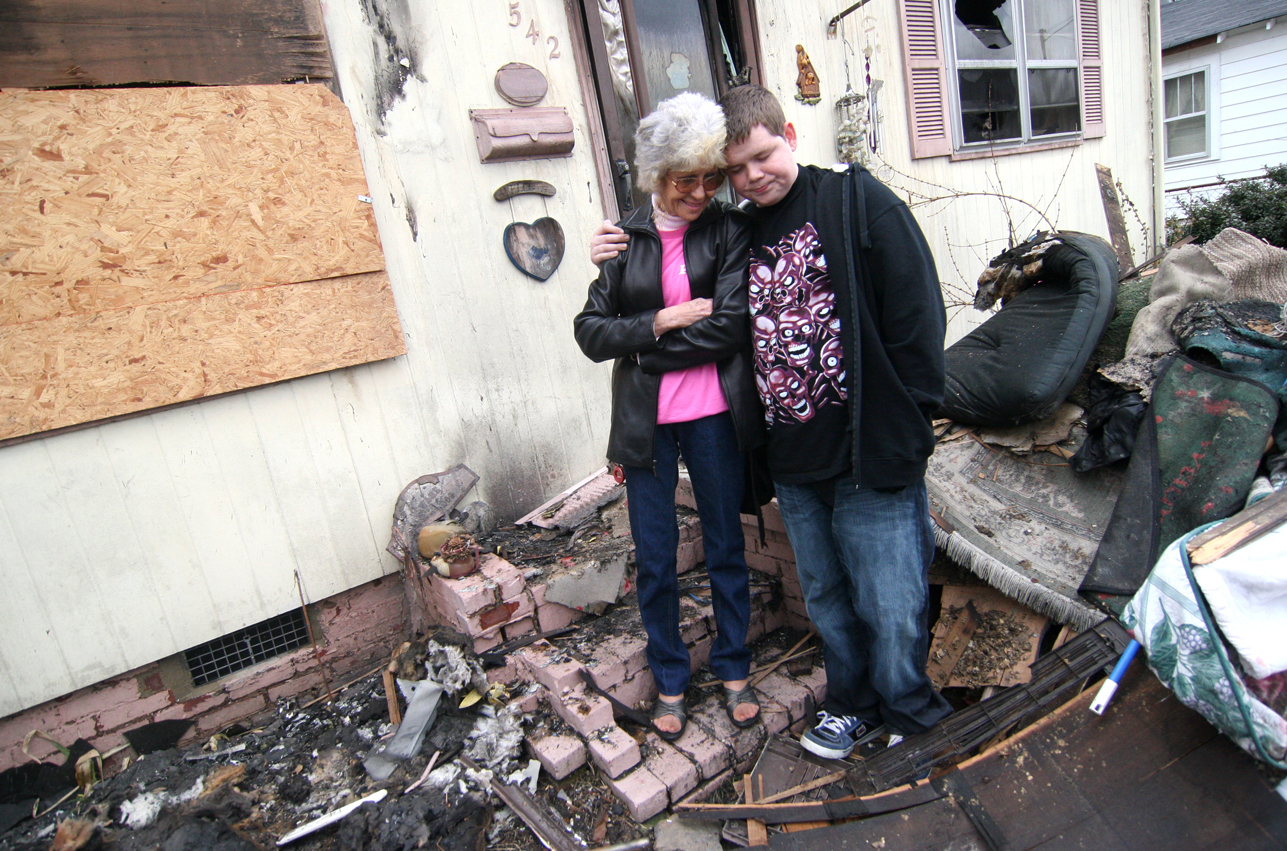 Aaron Estep, 13, holds his grandma Irene Shipley, known better as "Nanny" infront of her home on 542 Dale Street. Estep woke up in the early morning and helped his grandmother escape the fire that burned and gutted the entire inside of the home.
Charles Leonard, 24, of Kingsport does his best to stay afloat by pouring water out of his Jeep after he failed to negotiate a curve coming off of Wilcox Drive onto Jared Drive shortly before 4p.m. Leonard landed into the South Fork of the Holston River sluice after he exited the road, slipped between several trees and splashed into the river. He did not suffer any injuries. A field sobriety test was performed by Kingsport Officer Mark Johnson and Leonard passed but was charged with failure to maintain control.
Gladis Perez and her husband Eulogio Hernandez watch as a house they were in the process of renovating for their daughter is consumed by fire. A two alarm fire broke out at 918 Bullitt Avenue SE in Roanoke Tuesday evening, January 7, 2014. According to the homeowner Eulogio Hernandez, nobody was home at the time and his wife had received a call about the house being on fire.
A student walks down the hallway with his flashlight. According to Principal Vicki Clevinger, it was 'business as usual' at Lincoln Elementary School Wednesday. At about 5:30a.m. a custodian who came in to work reported power out at the school. Classes continued with the only exception of no hot lunches being served.
Firefighters and EMS work together to extricate a male driver from his Toyota after it was hit by a Lexus that crossed the median into westbound traffic on Stone Drive. Patrons from Walgreen's observe over the railing onto the road.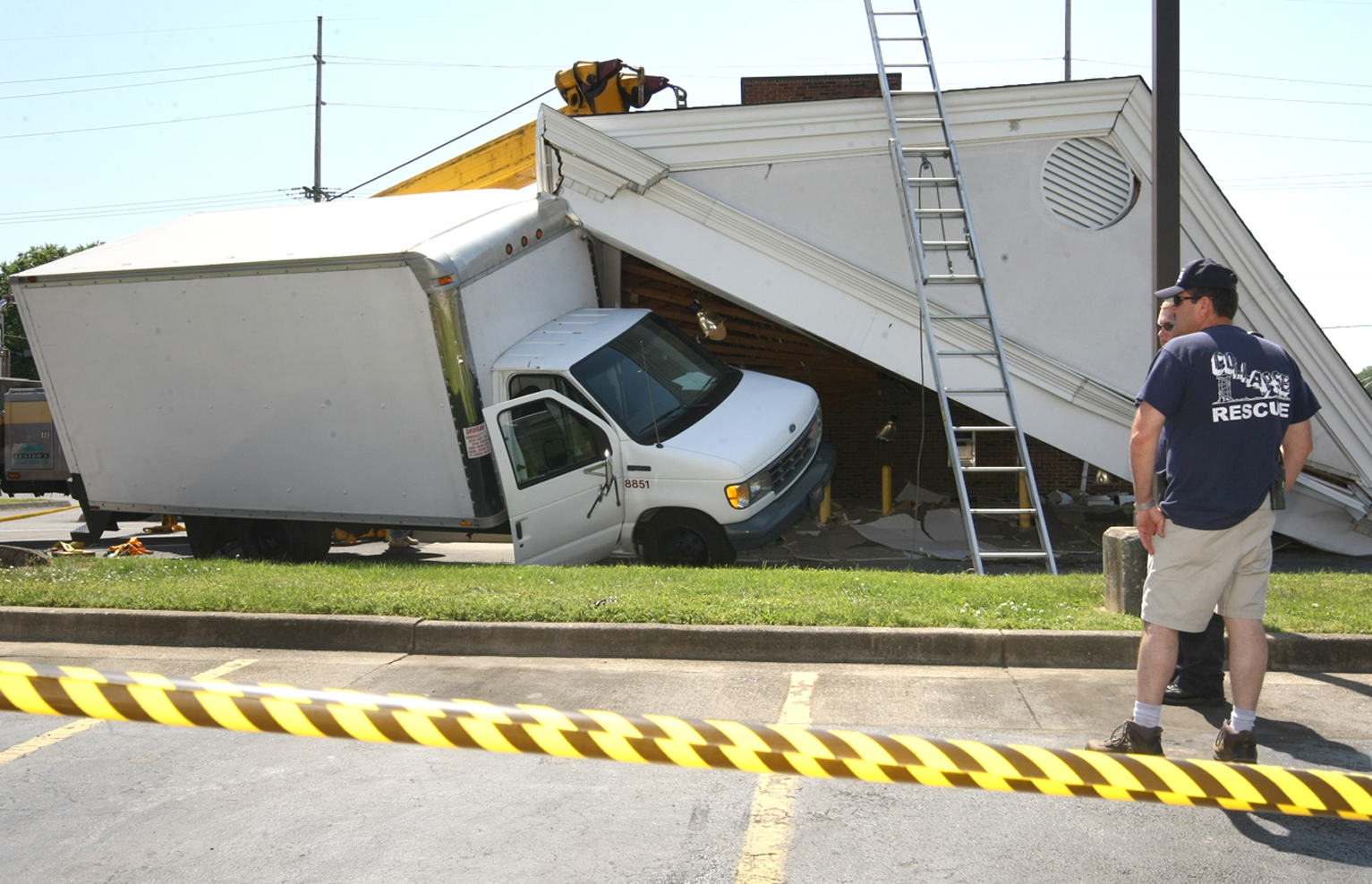 According to Kingsport Officer Micah Johnston, at approximately 1:45p.m. the SunTrust Bank drive-thru roof at the intersection with Netherland Inn Road and West Stone Drive collapsed after a box truck driven by Adam D. Ledford of Johnson City attempted to turn around in the parking lot but his vehicle struck the ATM machine's overhang. Ledford will be charged with failure to maintain due care.
A Sullivan West Volunteer Firefighter takes a break after battling a structure fire on Shanks Road at around 3p.m.
Clifton Harper, 20, retrieves a mattress from an apartment where he was living when a fire broke out at Valley View Village apartments Wednesday evening.
Jonathan Kennedy (front), Brian Dunbar (back left) and Mike Dunbar (back right) help a motorist trying to climb an icy road on Brandon Avenue SW near Lynn Avenue. "I wanted to help out, because I know how it is to get stuck," said Kennedy. The trio stood by and helped motorists turn back around after their cars could not climb the hill.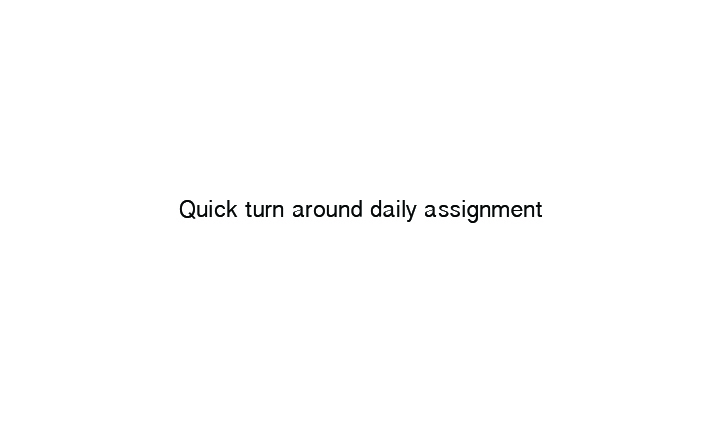 WDBJ7 news anchor Chris Hurst pauses as he is overcome with emotion while holding a photo album that was created by fellow reporter Alison Parker as a keepsake of their growing relationship together. Parker had made the album as a six month anniversary gift. Parker died from a shooting earlier in the morning when a gunman opened fire during a live television broadcast in Moneta, Va. "When you know someone loves you, there's a look in their eyes that looks through you and into you and she gave that to me every single time. She was going to be a tremendous journalist and a tremendous news anchor. She had so much more to give," Hurst said during an interview with news media outside of WDBJ7's Roanoke Digital Broadcast Center on Wednesday, Aug. 26, 2015. Vester Lee Flanagan II, 41, was taken into custody in Fauquier County after his car went off Interstate 66 and crashed around 11:30a.m., police said. Flanagan had a self-inflicted gunshot wound at the time of his arrest and died shortly before 1:30p.m. at Inova Fairfax Hospital in Falls Church, Franklin County Sheriff Bill Overton said at a news conference this afternoon.
NAACP national youth and college director Stephen Green, seated left, and NAACP national president Cornell William Brooks, seated right, sit down first to demonstrate a sit-in at Rep. Bob Goodlatte's regional office as Goodlatte's chief of staff Pete Larkin, right, listens to local NAACP president Brenda Hale explain why they are there.
From left to right: Roanoke Police department captain Rick Morrison escorts national NAACP youth and college director Stephen Green and national NAACP president Cornell William Brooks with Roanoke police officer Cobb after Green and Brooks were arrested for criminal trespassing and refusing to sign a summons after a six-hour sit-in at Rep. Bob Goodlatte's district office in Roanoke on Monday evening, Aug. 8, 2016. About 20 protesters with the NAACP held a sit-in to call for restoration of provisions of the Voting Rights Act of 1965 that were nullified by a 2013 U.S. Supreme Court decision.
Lacquaine Jamal Myers cries during his plea hearing on Thursday, Oct. 19, 2017 in Roanoke Circuit Court, sitting with his lawyer Charles Bullen, as Judge Charlie Dorsey goes over his charges and how much time that Myers could potentially serve.
June 6, 2014 Bonnie Tarman, center, of Cleveland, Ohio, snaps a photo of a flyover during the 70th anniversary of D-Day at the National D-Day Memorial in Bedford, Virginia. Tarman's father, Leo Beasley, was a medic in the Army and landed on Utah Beach on D-Day. He passed away in 1995.
June 6, 2014 A spectator at the 70th anniversary of D-Day at the National D-Day Memorial in Bedford, Virginia, watches a flyover. Several different aircrafts, including the C-47 and P-51, which were both used during WWII, were flown over the memorial on Friday.
Claire Spangler twirls fire batons with the Southernettes Baton Corps of the Roanoke Valley as they make their way down Campbell Avenue during the City of Roanoke Christmas Parade on Saturday evening, Dec. 9, 2017.
Ginger Gunlock of Waynesville, Ohio, combs her cat, Bart, or its registered name, Suavere's Dark Secret of Penobscot, in between judging rounds during the Central Carolina Cat Fanciers and Star City Cat Fanciers CFA Allbreed Cat Show at the Holiday Inn in Roanoke on Saturday. Bart is a two year old Black Persian cat. Gunlock has competed in shows for 41 years. The show goes until Sunday.
Addy Grace, 8, who is diagnosed with Spinal Muscular Atrophy (SMA), center, plays Disney's Frozen game together with her family, including her brother Bryson, 3, and her parents James and Jennifer, at home on Monday, July 5, 2017.
Virginia Capitol Police carry the casket of Lacey Putney, draped with the flag of the Commonwealth, after a funeral service held at Bedford Baptist Church on Thursday, Sept. 7, 2017.
Jacob Dillon of Roanoke bows his head in prayer as Dr. Bernard Alvarez, vice chair of the Roanoke Diversity Center, leads a closing prayer at a candlelight vigil held for the victims and families of the Orlando shootings at Elmwood Park Wednesday evening, June 15, 2016. More than 200 people attended the hour-long vigil after skies cleared from a heavy storm. In addition to speakers who mentioned ties of Roanoke to Orlando with references to the Backstreet Cafe shooting in 2000 and the LGBT community at large, names of the victims in the Orlando shooting were recited. The vigil was hosted by Roanoke Pride, the PRISM Foundation and The Park Dance Club. "Instead of coming to mourn, I felt more like I was coming to celebrate who I was and though we are sad they died, we are celebrating who they were and that they didn't die in vain," Dillon said.
A Roanoke police officer directs Rupert Bonhotel of Roanoke, to stand on the sidewalk and out of the roadway on Wells Avenue prior to the town hall meeting with Republican presidential nominee Donald Trump and vice presidential nominee Mike Pence Monday, July 25, 2016. Bonhotel faced those opposing Trump on the other side of Wells Avenue.
Grace Terry stands on a portion of her property on Poor Mountain on Thursday, Aug. 31, 2017 which is part of a 590-acre conservation easement that Mountain Valley Pipeline would like to use as an access road. Terry holds an aerial map prepared by Roanoke County GIS in 2016 of her family's property with lines that mark the route of the pipeline.
Anthony Perry of Roanoke peers into his car parked on Jefferson Street Saturday afternoon, Jan. 23, 2016. Perry lost his keys and watch Thursday night but luckily was not stranded since he lives downtown.
A pedestrian walks across Church Avenue as snow continues to pour down in downtown Roanoke on Wednesday morning, Nov. 26, 2014.
Banda Magda performs at Jefferson Center Wednesday evening, June 21, 2017.
Robert Gray, 86, is a former POW of the Korean War.
Lolly and John Rosemond, long time members of St. John's Episcopal Church in Roanoke, kneel and read from the Book of Common Prayer, during the Ash Wednesday service at St. John's Episcopal Church at noon.
Jessica Surace Nelson, 35, and her Little Sister, Kianna Robinson, 17, sit on the stoops of the Big Brothers Big Sisters of Southwest Virginia house on Wells Avenue on Monday, Mar. 23, 2015. Nelson and Robinson have been together for eleven years and Nelson has been named Virginia Big Sister of the Year by the Big Brothers Big Sisters Virginia Alliance.
Runners make their way down Williamson Road past the Taubman Museum of Art and the Wells Fargo Tower during the 12th annual Union Bank and Trust Drumstick Dash 5K Race and Family Walk on Thanksgiving day, Nov. 23, 2017.
Josh McIntyre of Roanoke relaxes while listening to music at the Dreaming Creek stage on the last day of Floyd Fest, Sunday, July 31, 2016. This is his third year at Floyd Fest.
Aprill 23, 2014 A red fox kit curiously lingered around watching the photographer. The kits were seen off of Peters Creek Road.
Richard Woods lifts his daughter Kali Woods into a hug after Franklin County High School's graduation at Cy Dillon Stadium in Rocky Mount May 28, 2016
Bethlehem Restaurant and Grocery co-owner Imad Qendah (third from left) talks to his friends, including (from left) Kat Mortada, Hussain Alsaady, Goran Mirza and Sam Bidawid, all of Roanoke, outside of a building next to his restaurant spending time together on Thanksgiving day, Nov. 23, 2017. Qendah is from Palestine and opened his business in Roanoke two years ago.
Jim Williamson, a volunteer for the last few years with Roanoke Rescue Mission who is from Radford, brushes off lingering hairs from Isaac Thacker, 7, after giving him a haircut during the Roanoke Rescue Mission's eighth annual Back 2 School Blast at Parkway Wesleyan Church on Sunday afternoon. "It's a worthwhile project, it's a lot of fun for us and it served a good need," Williamson said.
Pastor Daniel Rudy with the Ninth Street Church of the Brethren, helps carry the cross down Morton Ave. SE during the third annual Good Friday Cross Walk hosted by the Southeast Roanoke Christian Partnership Friday morning, Mar. 25, 2016.
Dr. Bing Parkinson checks in with Laverne Baum, 81, in the cardiac unit's ICU Thursday morning, Nov. 9, 2017 at LewisGale Medical Center. Parkinson is currently enrolled in the Graduate Medical Education program at the hospital training in internal medicine. Baum had fractured her pelvis, broke her arm and was getting ready to have a pacemaker placed in her body that day.
Doris Brown Kirk, 100, answers questions from Beth Hudson's first grade class at Boones Mill Elementary School on Wednesday, Jan. 20, 2016. Kirk talked about what she wore to school and how she traveled to school. Kirk celebrated her 100th birthday today, while the students will celebrate their 100th day of school on Friday.
Darlene Tower of New Jersey cools down and washes her horse Pepto Hick, also known as Zeus, a 7-year-old quarter horse on Friday, June 17, 2016 at the Virginia Horse Center in Lexington. They competed in the US Team Penning Competition that day. Quarter horses will also be a part of the Roanoke Valley Horse Show from June 21-26.
Jimmy Bryant of Bryant Orchards in Fincastle, checks the flowers and buds of an apple tree on Thursday, April 14, 2016. The low temperatures that brought snow and freezing recently may affect his yield, but according to Bryant, it's hard to tell at this point. The orchard has about 200 acres.
Cuban-Americans Reynaldo Collazo dances with his wife, Sahiry Peraza, during the 14th Annual Latin Dance Party with Latin Clave at Jefferson Center's Fitzpatrick Hall Friday evening, Jan. 27, 2017. The couple came to the U.S. from Cuba 14 years ago and said they like to come ever year to the party.
Members of the City Modern Ensemble, including Carlotta Stoecker, director of the City Modern Ensemble Liza Deck, Andrea Rodgers, Renae Dower, Dongil Chung and Christina Roberts, create a live art performance with five-gallons of paint that they poured on themselves Wednesday evening, June 10, 2015 in Grandin at the corner with Memorial Avenue and Heights Community Church. The ensemble is a modern dance component of the Roanoke Ballet Theatre located on Grandin Road. Inspired by an NPR episode on performances by Shakespeare using real blood, Deck saw an opportunity to produce something similar but with paint. The group hopes it will call attention to their Kickstarter campaign to raise money for free traveling public performances and experiences together as a group. Local Roanoke artist Eric Fitzpatrick also helped with the performance by dripping final splashes of paint with a gallon bucket and a set of brushes over the performers. Three pieces of music played in the background as they danced. "Being able to put it together with dance and movement which is what I love, is really freeing. You lose yourself once you start," Andrea Rodgers, one of the performers, said. According to their Kickstarter page, they are hoping to raise $10,000.
Thomas Brashears of Fairfield, Virginia, salutes with his family, including his son Blake, 3, wife Jill and daughter Alanah, 5, during a parade by the Virginia Military Institute Corps of Cadets. Brashears worked and graduated from VMI in 1995 and also served eleven years in the Army from 1995-2006 with a tour in Iraq and the Balkans. The Institute was marking the 175th anniversary of its founding on Nov. 11, 1839.
(From left to right) Sen. Creigh Deeds, Attorney General Mark Herring, Democratic candidate for governor Ralph Northam and Sen. Tim Kaine sit together and chat during the Buena Vista's Democratic Committee's Breakfast with Virginia Democrats on Labor Day Monday morning, Sept. 4, 2017.
Ray Scott of Penhook, holds his granddaughter Ava Lynn Salb, 2, as the rest of his group, including Sydney Nichols, 7, Savannah Davis, 5, and Kevin and Chelsie Davis of Ridgeway, make their way down rows of Fraser firs offered at Rifton Farm and Nursery in Pilot, looking for the perfect Christmas tree on Saturday, Nov. 26, 2016. Scott said it's a tradition to find a tree with his kids and grandchildren. They ended up selecting a Norway Spruce.
A bluegrass jam at the Floyd Country Store in Floyd, Virginia.
For AP