Maria Goodman-Osby, 5, center, plays with inflated beach balls along with other community members at Afton Garden Apartments off of Hunt Ave. NW during National Night Out on Tuesday, Aug. 2, 2016.
Pastor Dan Peterson of Circle J Cowboy Church baptizes Mike McConnell with help from fellow member Steve Wade in a horse feeding trough filled with water. Peterson leads a congregation at the Kingsport Livestock Auction at 200 North John B. Dennis Highway every Thursday at 7p.m. The unique ministry reaches out to people with a "come as you are" attitude. McConnell is a farmer by trade and found the church after reading a sign posted on the auction door. Before then, McConnell did not attend church.
Runners in the Foot Levelers Blue Ridge Marathon, half marathon and Anthem Star 10K make their way up J.B. Fish burn Parkway to Mill Mountain on April 22, 2017. According to race organizer, Julia Boas, by Saturday morning the number of entries in this year's event was more than 2,400, which included a men's and women's half-marathon, a men's and women's 10K race and a one-mile family run.
Gladis Perez and her husband Eulogio Hernandez watch as a house they were in the process of renovating for their daughter is consumed by fire. A two alarm fire broke out at 918 Bullitt Avenue SE in Roanoke Tuesday evening, January 7, 2014. According to the homeowner Eulogio Hernandez, nobody was home at the time.
Melanie Myers entered her apartment Thursday at Valley View Village to pack some of her possessions into boxes. She found the walls of her apartment charred and her ceilings completely blackened from the soot and smoke. Residents were on the scene trying to claim what was left of their belongings. "We all got out. We just lost everything we own," Myers said. Officials say three people were injured in the fire, and several had to be rescued from upper floors.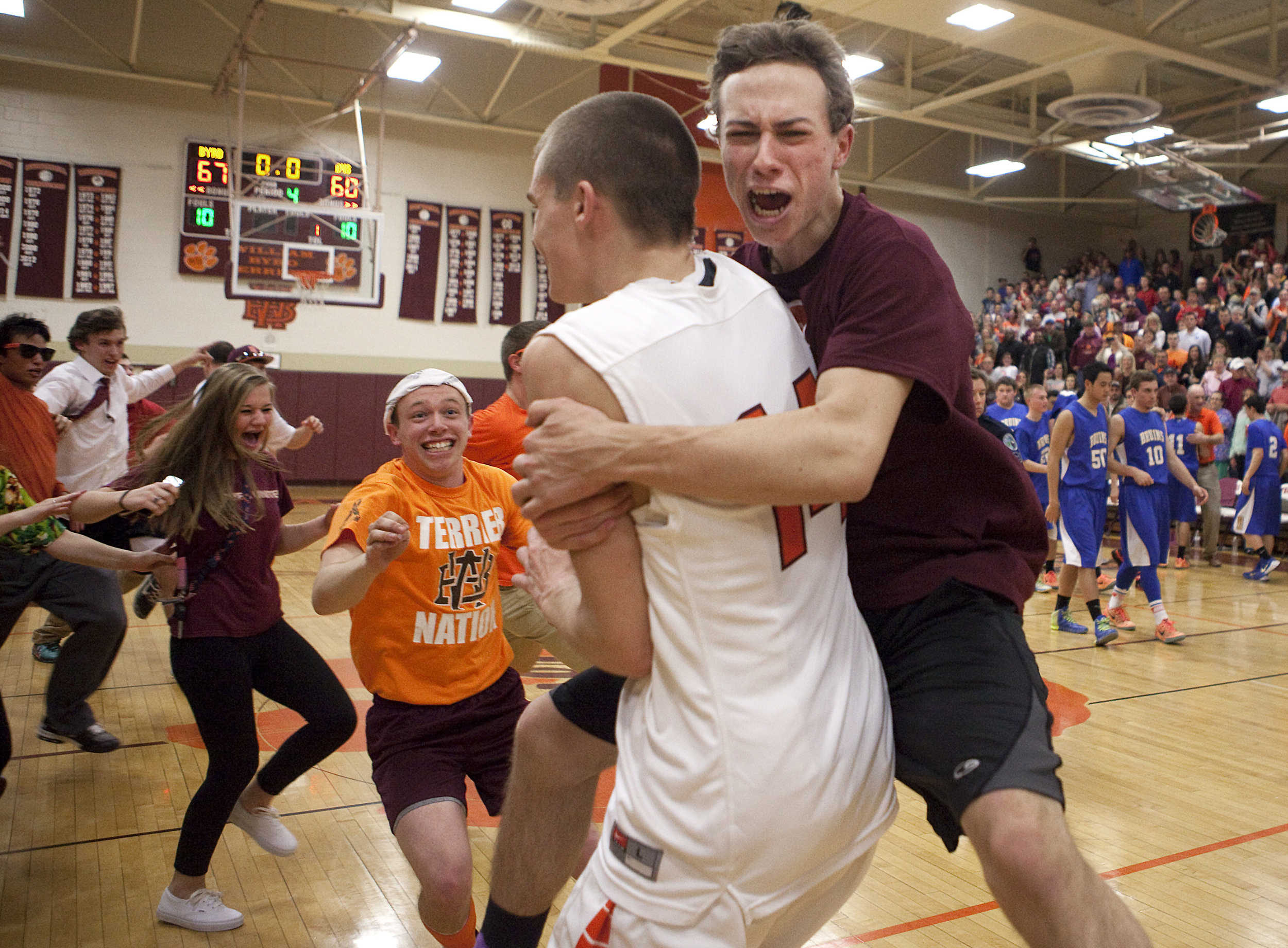 William Byrd High School students celebrate their win over Blackburg High School after the the first round of the 3A West tournament at William Byrd High School. William Byrd won 67-60.
DiMingo Hale of Kingsport, Tenn., kisses his sons Malachi and Micah Hale as his wife Sara snaps a photo while they wait for him to board his plane at Tri-Cities Airport in Blountville, Tenn., on March 31, 2011. Hale returned to Afghanistan to serve his second tour of duty.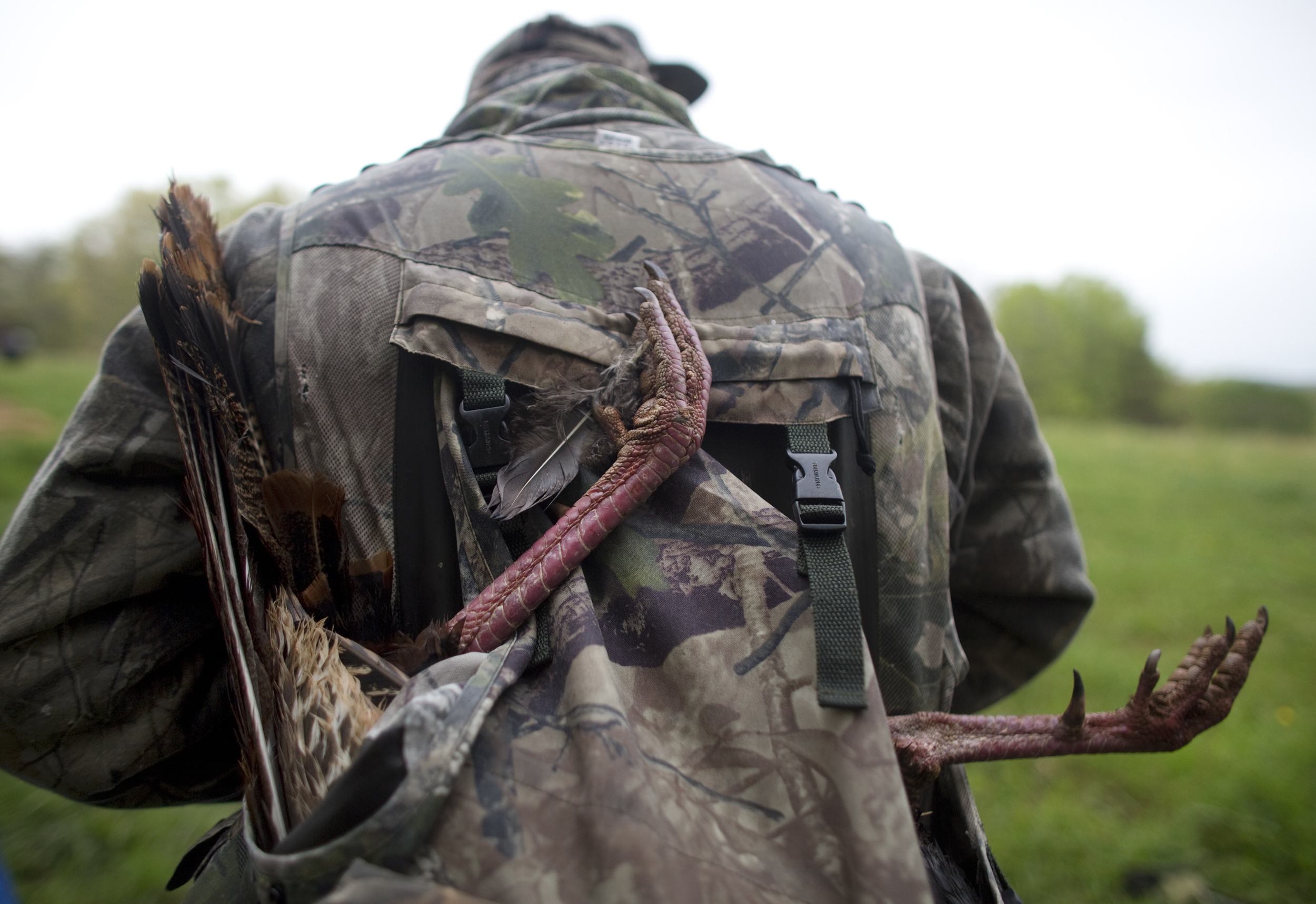 Steve Davenport carries a turkey he shot in his sack to carry back to the Moose Lodge.
Northside High School third baseman Sam McLaughlin (23) loses the ball as Cave Spring's Logan Altizer (7) slides into third safely during the first inning of the Region 3A West quarter final at Northside High School Tuesday evening, May 30, 2017.
Fathers and their daughters dance the night away together at the Green Ridge Recreation Center during the annual father daughter dance.
Judge Douglas Myers in Ring One takes a look at Purrsia, also known as Purr Bits' Pursian Princess, during the Central Carolina Cat Fanciers and Star City Cat Fanciers CFA Allbreed Cat Show on Saturday. Purrsia is a Brown Mackeral Tabby owned by Jean Aldrich of Mount Airy, N.C., and has been showing her cat since March of last year.
Chris Barlow gives his twin sons, Khrishawn (front) and Khristian, 2, a ride in a wagon as they turn from Moorman Ave NW onto 16th Street NW Tuesday afternoon. Barlow said it was their first time out in the wagon enjoying the weather.
Kimmie Rulo leans on her dad, Charles, as they wake up in their living room together. The family of five lived in a cramped single-wide trailer. Charles was the sole financial provider trying to provide for his three children and wife, Angie.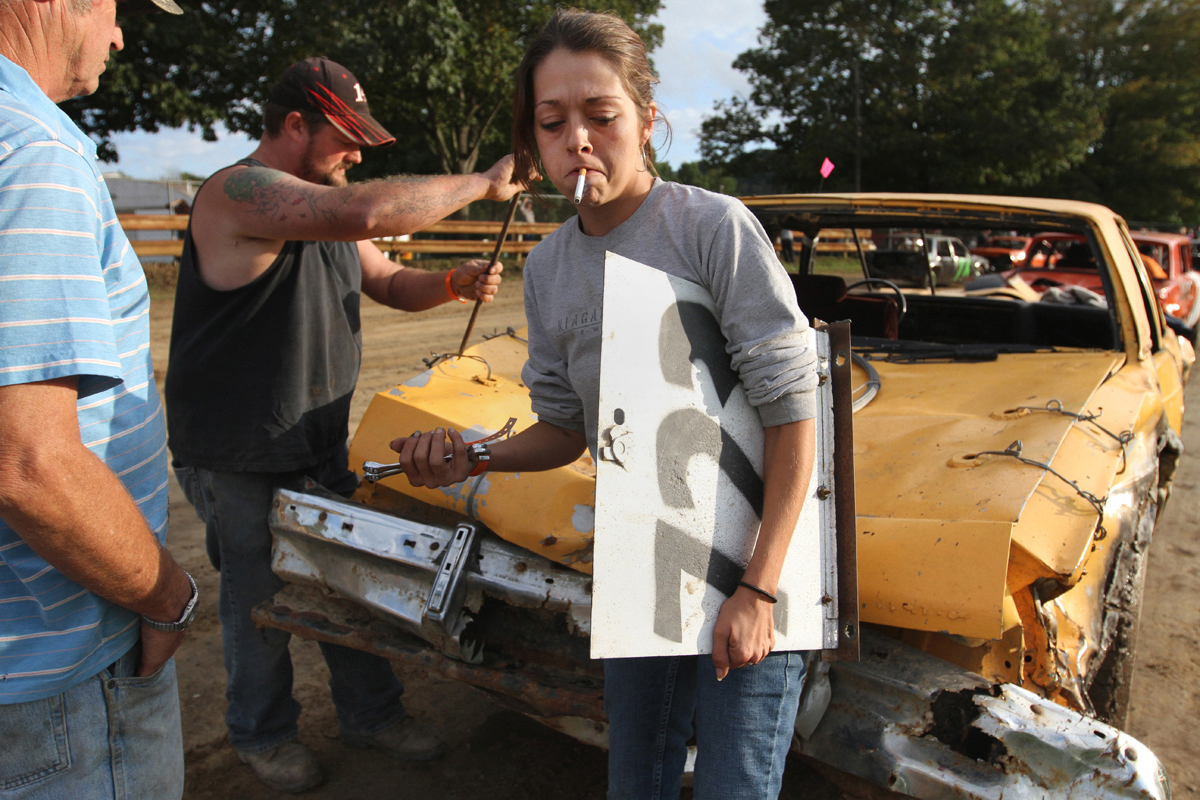 Misty Way, of Nelsonville, Ohio, takes a drag from her cigarette while waiting on her boyfriend Elmer Kimmey, also of Nelsonville, Ohio and neighbor Joe McKee as they wire shut the hood of her stock car prior to the Marietta Demolition Derby on Saturday, Sept. 17, 2011. This was Way's first year driving in a demolition derby. "I'm nervous as hell," Way said. She went on to place third.
2011 outgoing queen Jordan Johnston and second attendant Blaire Warner take in their last parade during Millersport's Sweet Corn Festival in Ohio late August.
A pedestrian walks across Church Avenue as snow continues to pour down in downtown Roanoke on Wednesday morning, Nov. 26, 2014.
Brooke Kelly of Roanoke crosses S. Jefferson Street at Kirk Ave. as blistery winds whip her hair around while she heads back into work at the Carilion Administrative Services Building Wednesday morning, Mar. 15, 2017. "It's freezing," Kelly said. While the region missed the brunt of the forecasted snow, temperatures in the mid-30's and high winds made it feel more like winter Wednesday morning.
Family members say goodbye to Mikeal Sardarov, who stood next to his defense attorney Michael Hartley at the conclusion of his bond hearing Thursday morning, Aug. 18, 2016. Sardarov was denied bond. A judge denied bond Thursday for a Roanoke man charged last month in the death of an infant, but he also agreed to review the matter again, once additional information is available.
Mikeal Rafayel Sardarov, 22, is accused of killing Liam Fink, his girlfriend's 5-month-old nephew, who died March 1 of blunt force trauma. Police have said the injuries occurred two days earlier, while Sardarov was baby-sitting the boy at a home on Dona Drive.
On July 5, Sardarov was indicted on charges of murder, child abuse and child neglect. He turned himself in the next day and has been jailed ever since.
Charles Leonard, 24, of Kingsport does his best to stay afloat by pouring water out of his Jeep after he failed to negotiate a curve coming off of Wilcox Drive onto Jared Drive shortly before 4p.m. January 27, 2011. Leonard landed into the South Fork of the Holston River sluice after he exited the road, slipped between several trees and splashed into the river. He did not suffer any injuries. A field sobriety test was performed by Kingsport Officer Mark Johnson and Leonard passed but was charged with failure to maintain control.
Chris Palmer feeds calves in a barn during the afternoon. Chris and his parents, David and Connie Palmer have lived in Cheshire for 25 years, raising young dairy calves for larger farms for the last four years through the Kentucky Hefer Growers organization. The Palmers are Phase 1 growers, raising calfs from 0-4 months for about two months. They have about 102 calves on their farm. Their son Chris, 22, graduated from River Valley High School in 2007and hopes to raise dairy cows himself. "It might affect us some day, health-wise, I don't know, that's what you hear…but actually, West Virginia might get worse than we do," said David.
A flock of birds fly across the Old Poage Farm off of Bent Mountain Road in Roanoke County with the backdrop of snow covered trees seen Monday afternoon, Mar. 12, 2018.
Singles